Outreach
"The Church is the one society that exists for those who are not (yet) its members."
William Temple, Archbishop of Canterbury
Outreach is the natural result of being part of God's people, flowing from gratitude for the new life we have been given in Christ. It is the fruit of sound belief, a sign of a healthy, mature faith, just as the fruit of a tree is the sign of a healthy and mature tree (cf. James 2:14-25). Outreach refers to both serving others and sharing the Good News. Churches often make a distinction between the two, emphasizing one over the other, which has the effect of impoverishing both. For, when it comes to showing other's Christ's love, it's not a matter of choosing one way over another—telling others about God's love or acting on that love by serving others, evangelism or service. It's about seeng how many ways we can get across the message of God's love shown in Jesus.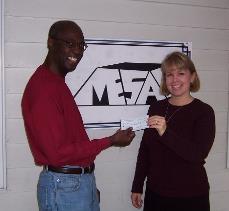 Piedmont Episcopal Church has a history of outreach projects that are mainstays in the Madison County Community. We are involved in many projects where our members serve to help our church and our community.
Our Angel Tree outreach makes sure children in the Head Start program receive toys and books for Christmas. This year our generous congregation provided 38 gifts.
Piedmont has been involved with MESA (Madison Emergency Services Association) from the beginning. Many of our parishioners have held leadership positions in the over the years. We provide volunteers to work at "Connie's Thrift Shop", MESA's consignment shop, on a weekly/monthly basis and contribute regularly to their food pantry. At least once a year we collect a special offering to help MESA's work. Members of our Parish also serve as mentors to the residents of Barbara's House, a temporary residence for families in need.
Our monthly offerings for outreach include The Madison Free Clinic, MESA food pantry, The Madison Boys and Girls Club, Madison County Social Services Fuel Assistance Program, school supplies for local children, United Thank Offering, and other non-profits.